The salesclerk asked a simple question - one I answered easily every year. But this year, I hesitated.
"Would you like to add on 'Thanks for Sharing'?" Smile. Slight head tilt. Credit card please?
Every year at this time - for a $25 enrollment fee that goes to charity - Macy's offers their customers an opportunity to earn 10% back on their purchases through the end of the year. Since I usually spend at least $250 at Macy's during this time, it always made financial sense to enroll.
But because of my growing awareness of human trafficking, slave labor, injustice in the world, and poverty, my spending patterns have changed. I no longer spend as much money in Macys, but shop for gifts in catalogs by World Vision, IJM, Fair Trade vendors, etc.
And so I stood there mute, not moving a muscle while my brain raced away.
As the clock ticked and the awkward silence grew, I knew I had to say something. So I said the truth - that this year the question is not as easy to answer as previous years because things have changed.
I chose to explain to the salesclerk WHY I was hesitating. I told her about Advent Conspiracy, Justice Network, Charity:Water, and how God is directing me to make my spending be intentional in both fighting poverty and injustice and building relationships with family and friends.
She stood there dumbfounded at first, but then she shared with me that her mother watches the 700 Club and often asks for prayer. "Is that similar?" she asked. And then I was able to enter into a deep conversation with her. I gave her my business card inviting her to read my blog. She asked about my church, and I was able to tell her not only about church but more importantly about God and what Christmas is really about for me and my family, and could be for her too.
I am, by nature, an introvert. My natural inclination is just to say "No thank you" or "Sure sign me up" and leave it at that. But that night, God impressed upon me to speak up, and He gave me the words to share. (Col. 4:6)
When I came home and told my daughter Lauren about the conversation, she said, "Way to go, Mom. That's what Pastor Carl would call – 'occupying your street'." Her pastor, Carl Lenz of Hillsong NYC, used the Occupy Wall Street movement as an illustration to apply the phrase to our Christian lives. He exhorted us to make an impact for Christ in the immediate world around us - our street, our workplace, our family, our friends, our church, even our local Macy*s cosmetics counter.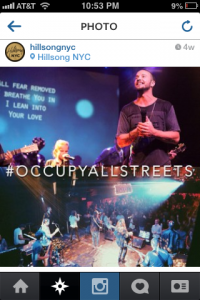 Lauren's favorite quote among the many she recorded from his message, "Shock people with the dream in your heart, and impact them with your dedication to what's in your hand right now."
What was in my hand that day? My credit card.
Well I'm not dedicated to my credit card, but God used it just the same. I may never see that salesclerk again, but I will look for her on my next visit to Macy's.
And I decided to go ahead and purchase the $25 Thanks for Giving program. Whether it makes financial sense or not, the money goes to charity so it makes perfect sense.
"For the Son of man is come to seek and to save that which was lost. …

And he called his servants… and said unto them, Occupy till I come." Luke 19:10,13
In what way can you occupy YOUR street in the months to come?